MSP Breast Health Day
October was Breast Cancer awareness month, Breast Cancer is the most common cancer in Fiji. If breast cancer is detected early it can be treated before it spreads to other parts of the body, most breast lumps are not cancerous but it's always best to have them checked by a doctor or nurse.
To support International Breast Cancer Awareness month, MSP held a Breast Health Day on 27 October. We wanted to reach a varied client base so we used community radio, social media, staff networks, and handed out flyers on the street to attract clients. We had clients who had travelled from some remote villages and remote islands, after hearing about our services on the radio, or through their networks.
It was difficult for MSP to predict the numbers that would arrive on the day to utilise our services, the reality far outweighed our expectations. The tea, coffee, refreshments and pink cupcakes were a huge hit as people waited for short periods. At times we had groups of 8 people or more arrive at one time, we made sure to distribute people amongst the different areas so we did not have people waiting for too long. When we hold a similar event we would consider having an additional medical professional on hand, at 5pm we had to ask people to come back on an alternate day because we ran out of time to see everyone.
As a result of not being able to see everyone on the day, we have had many return visitors who have come in and enquired about getting their breast examination completed. Over the course of the next few weeks we are sure to see more return visitors.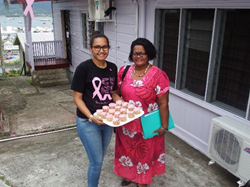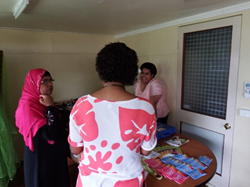 MSP set up two breast examination and cervical screening rooms and a Sexual Reproductive Health and Bra Fitting room. In addition, counselling services, legal services and general health enquiries were answered by staff during the day. All rooms and staff were very busy indeed.
The Sexual Reproductive Health and Bra fitting room saw a total of 76 clients over the course of the day, we made sure to customise information given depending on the age bracket. The age range was varied between 14 and 66 years. A total of 283 bras were given away and some visitors provided a small donation. Before giving away the bras, the MSP team made sure the client was competent in how to measure their bra size for a perfect fit. The choice kit was used to showcase the contraception options available and 60 packs of Emergency Contraceptive Pill was given to women at their request. The SRH room saw lots of students from a tourism college that is down the road from our offices, with ages ranging from 18 to 25 the team went through some sections of the Girl Empowered book including contraception and preventing teenage pregnancy.
The two Doctor's and Nursing Practioners completed 62 breast checks, 10 cervical screens and 2 IUCD's, with 2 referrals to the hospital for further investigation after breast checks. A follow up will be done with the clients that were referred to the hospital and counselling was provided on the day, results will be provided to those who had cervical screening in 2 weeks' time. Some clients had never had their breasts examined before and were extremely grateful for this free service, many customers also noted that they had not heard about MSP before today and would definitely be returning to MSP.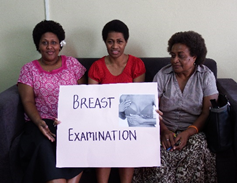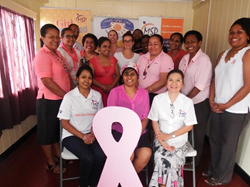 Some other comments from clients during the day included " I heard about this wonderful service on the radio and travelled from my village", "Thank you so much MSP, I will be back" , "I am texting my friends right now and telling them to come down here"
We also received this email from a client:
"I am a 63 year old grandmother. I heard about the free breast examination day from my daughter. After 30 plus years, I had my paps smear test done and also a breast examination. I am glad that I got the examination done at MSP. I was very nervous in the beginning but the medical team was very understanding and made me feel at ease to access the service. It was also a learning experience for me. The staffs were friendly and I got to meet other women who were there for similar examination. I am looking forward to my paps result. MSP should hold events like this more often. Thank you MSP!"
MSP had MSP and Girl empowered wrist bands available as well as condoms and other giveaways. It was a very successful day for MSP, having 76 clients utilising our services and increasing the communities' knowledge of Breast Health and MSP services.