[vc_row][vc_column width="2/3″ css=".vc_custom_1466037365423{padding-top: 10px !important;padding-right: 10px !important;padding-bottom: 10px !important;padding-left: 10px !important;background-color: #ffffff !important;}" el_class="clean_links"][vc_column_text]12 February 2014
William Angus, 6th Year Medical Student, Otago University
"As part of our final year medical training, students are given the opportunity of travelling abroad for three months and working for a hospital or organisation of our choosing. I chose to volunteer with MSP after hearing recommendations from previous students who had worked here. I have been here for five weeks now and have accompanied the team on a large number of outreach projects, providing clinical services to various locations within and outside of Suva. I work closely with the travelling team, providing medical consultations for clients that access our services. While not on outreach I sit in with the clinic doctor, providing a free walk clinic primarily for women and child sexual health matters but also accepting general medical issues.
What has struck me so far is the unfortunately large proportion of the child sexual assault cases I have seen. What I found even more shocking is that the perpetrators are almost exclusively a family member or direct relative.  While I was aware that sexual assault against children is a big issue in Fiji (and the Pacific for that matter), actually coming here and personally attending to these cases has been both an eye-opening and saddening experience for me. The ages of the children range from about 9 to 15 years but the youngest case I have seen so far was an 18-month-old girl. As a medical student in New Zealand, even after five years I had received very little exposure to these kinds of cases until now.
I have great admiration for the mothers and children who are brave enough to come forward (usually under the threat of violence or death) to report these cases. In particular in Fiji where loyalty to family is paramount and reporting such crimes is very much discouraged. All cases are naturally treated with the utmost confidentiality to try to
help ensure the safety of the victims.
MSP has a memorandum of agreement with the Fiji Police Force to document, report and refer all rape and sexual assault cases. When a victim comes in myself and the doctor will take a detailed history of the events that have occurred as well as a physical examination, in particular of the genitalia, to identify any signs of the assault. All findings for the consultation are documented in detail and delivered to the police for further action.
I am very grateful to MSP not only for this experience but also for the work they dealing with and reporting the sexual assault cases they see. Given the huge number of parents/children accessing this clinic, I can only imagine the large number of cases that would have gone unreported prior to the establishment of MSP three years ago. Certainly, this is critical gap that MSP is filling for the Fiji people. I very much look forward to my remaining time here with the team before I return to complete my studies."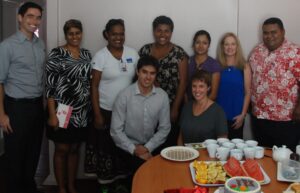 [/vc_column_text][/vc_column][vc_column width="1/3″ el_class="right_sidebar clean_links"][vc_widget_sidebar sidebar_id="sidebar-right"][/vc_column][/vc_row]